Mark's KLR650 Site Has Moved!
*** This is old and outdated Information ***
Please click the following link and change your bookmark to:
---------------------------------
---
DSR FUSE RELOCATION KIT
---
Thanks to Tammy of Dual Sport Riders for an exceptionally well made, and easy to install kit. Whether you're experienced with electrical work or not, this kit makes life good!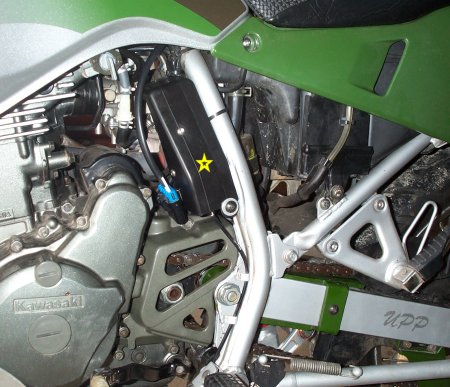 The two fuse blocks included in this kit will be placed inside the sidestand switch cover, indicated in the picture above by the yellow star.
---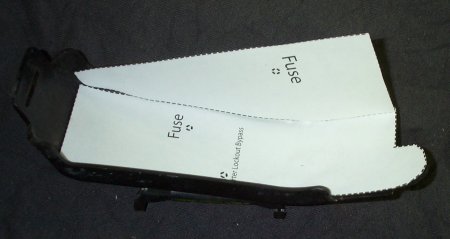 Tammy included a sheet with her directions that had these two templates on it. Just cut them out, and place them inside the kickstand switch cover. Note that under the word Fuse is a small circle. Just drill there and you'll be all set.
I found that to use the included bolts, I had to drill 1/4" holes in the cover, and drill out the tabs on the fuse holders with that same 1/4" bit.
You'll see that the wires going to one of the fuse holders are longer than the wires going to the other one. In the picture below, you can see that it's the white wires that are longer, and their fuse holder is mounted underneath the brown and blue wire holder. Mount the fuse holder with the longer wires beneath the other fuse holder.
---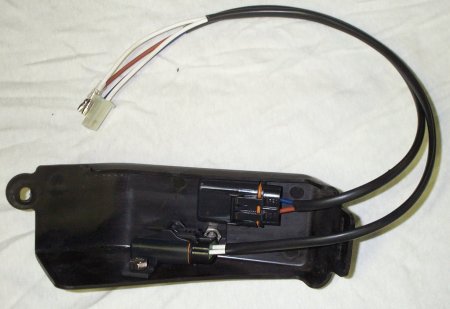 The picture above shows the fuse holders mounted in the switch cover.
---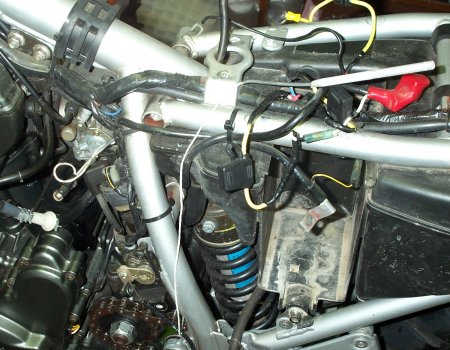 It was easy enough to run the wires up to the area above the battery, but I wanted to use a route that I just couldn't manage without a helper string to guide the wires.
I put the string down through from the top using a flexible aluminum retrieval magnet, taped the wires to the string, and pulled the whole thing up and through.
---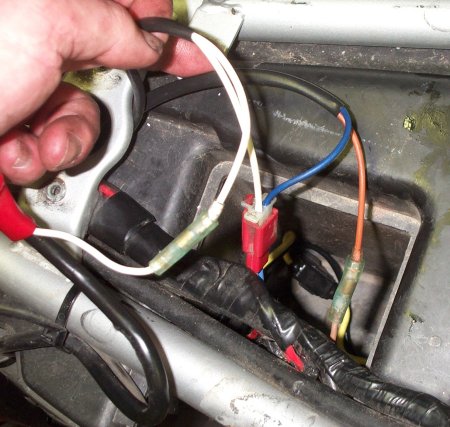 Once you've gotten the wire ends up into the battery compartment area, it's a simple matter of removing the existing fuse holders, and plugging in Tammy's DSR kit.
She used the same color wiring, so it's truly a no-brainer. The plug can only go one way, and then white goes with white, and brown with brown.
Use Dielectric (silicone) grease on the connections.
---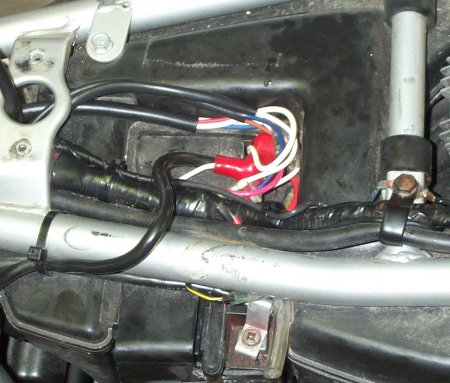 The above picture shows both the
Fuse Accessory Kit
and this relocation kit. You're doing a couple great things here; you're changing to the more rugged & reliable flat blade-type fuse, and you're getting the fuses out from under the saddle. No more removal of the side covers and saddle just to change a fuse!